MS Removal Tool Removal Tutorial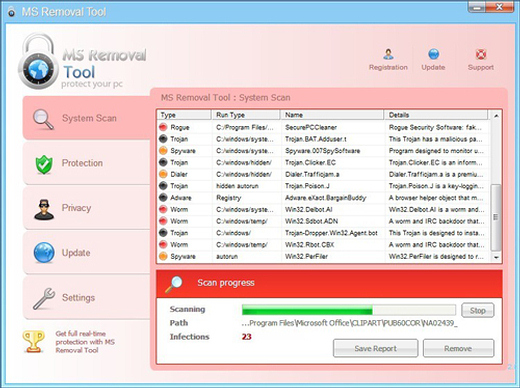 MS Removal Tool is a fake antivirus tool that's been created by scammers, who also released the infamous "Security Tool" infection. This virus works by installing itself onto your PC, and then showing you a bunch of false scanning results in order to try and trick you into buying the rogue upgrade to the program. We've found that although MS Removal Tool might look like a legitimate tool, it's a highly damaging infection, and needs to be removed in the most effective way in order to protect your PC.
If you have this virus, use these keys to activate it (makes removing the infection a lot easier):
WNDS-F40SA-1ER5H-4FG5D-F8412
WNDS-SERFH-2642S-F04SD-64FG1
WNDS-S0DF5-GS5E0-FG14S-2DF8G
WNDS-452S3-ER00F-TSE35-S8FSD
WNDS-FGS5D-649RG-4S53D-412SF
WNDS-4TS8R-D6F5D-4JH8T-U4JK5
WNDS-2AE32-1VFC2-B6894-G67YU
WNDS-P9685-4H41A-DSW3A-2R64T
WNDS-5SRTS-AEHUF-YA54S-D6F35
WNDS-A1SDF-RY4E8-7U98D-F1GB2
What Is MS Removal Tool?
This is a rogue security application, that's also known as a "fake antivirus" tool. It works by installing an actual piece of software onto your computer, and then using that tool to try and trick you into buying the rogue upgrade to the infection on your PC. We've found that this software will typically prevent your PC from running "Task Manager", as well as a number of other important Windows features. In order to get rid of it, you need to first stop the virus from operating before removing it from your system.
This virus will be working to try and get you to buy the upgraded version of this software, as well as then attempting to steal any personal data that you may have on your system. In order to get rid of it, you have to remove all the parts of the infection that you have on your system.