Windows 10: How to Move an App to a Different Drive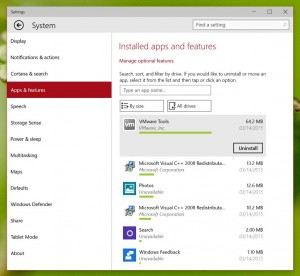 When you're installing apps to your Windows 10 OS from the Windows Store, they all get installed on the C drive by default. That's OK if you have a large C drive and don't want to change the default settings. But what if you're using an SSD and have limited space? Or simply want to keep your apps separate from your OS installation? Luckily, Windows 10 has the option to move already installed apps to a different drive provided they are Metro apps. Here's how:
Open the Settings app (you can do that from the Start menu if your Windows 10 build is not too outdated)
Now go to System and navigate to the Apps & features tab
Click on the app you want to move. If it's a Metro app, you'll see two buttons: Move and Uninstall
Click on Move
You get a drop-down menu showing the drives where you can move the app without having to uninstall and reinstall it
Select the drive and click on the Move button
You may need to wait for a while for the app to get moved depending on the app size.