Windows 10 May 2019 Update: What You Should Know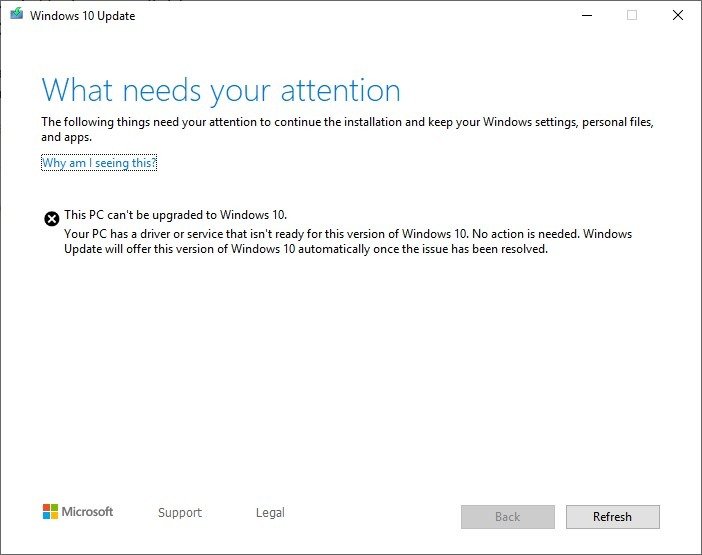 The Windows 10 May 2019 big feature update hasn't been officially released yet but the MSDN community and some early testers have already reported a problem. When they attempted to upgrade, they got error messages stating that their PCs weren't ready for the update. The messages start with a heading "What needs your attention" and tell the user why the PC is not yet ready for the update.
What needs your attention

The following things need your attention to continue the installation and keep your Windows settings, personal files, and apps.

This PC can't be upgraded to Windows 10.

Your PC has a driver or service that isn't ready for this version of Windows 10. No action is needed. Windows Update will offer this version of Windows 10 automatically once the issue has been resolved.
The problem is, that the error message doesn't tell the user what exactly is wrong and doesn't even give a chance to fix the problem and prepare the PC for the update.
Is There a Fix for the "What Needs Your Attention" Error?
Unfortunately, there isn't a fix for the Windows May 2019 update error yet. Most likely, the problem lies in a driver or a service but Microsoft fails to identify the exact cause and tell the user what needs fixing or updating before the upgrade can be run.
Microsoft says that users who run into this error should simply keep using their current version of Windows and wait for the upgrade to come through the Windows Update feature.
If you don't want to wait for that, though, you could try the following:
Unplug all connected devices, such as printers, card readers, etc. and keep only the devices that are needed for the PC to keep operating (keyboard, screen, and mouse)
Update all device drivers to the latest version
Use our recommended tool to resolve hidden Windows issues and conflicts
Uninstall iTunes, FutureMark and BattlEye Anticheat if you have them installed
Doing that may fix whatever is conflicting with the Windows 10 May 2019 update and let you upgrade without any problems at all.