XP Security 2011 Removal Tutorial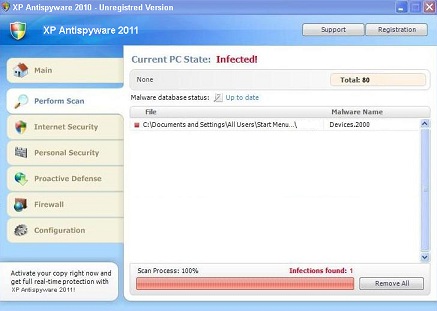 XP Security 2011 is a fake piece of software which has been designed by hackers to get you to buy the rogue upgrade to this program. As you may have already guessed, this will do nothing to help your computer, and is continually causing a huge number of problems for any computer which it will infect. In order to ensure the continued smooth operation of your PC, you have to be able to use a program & method that's going to completely remove the virus from your system.
What Is XP Security 2011?
This is a "malware" (malicious software) infection which works by installing an actual program onto your PC, and then using that fake tool to try and get you to buy the upgrade to it. It does this by blocking all your programs (including Task Manager, Internet Explorer, etc), and then showing you a number of false antivirus scanning results. This infection will have infected your PC from some kind of Internet source, including downloaded software / music, as well as emails or even malicious websites.
The aim of the tool is to trick you into buying the fake upgrade to the software, and from all accounts it seems to have done that very well for 1,000's of unsuspecting PC users. The way to get rid of the virus is to first stop it from loading, and then delete all the parts of it that your PC will have inside. This can be done by using the steps outlined in the guide below: