MS Removal Tool 2.20 Removal Tutorial – How To Remove MS Removal Tool 2.20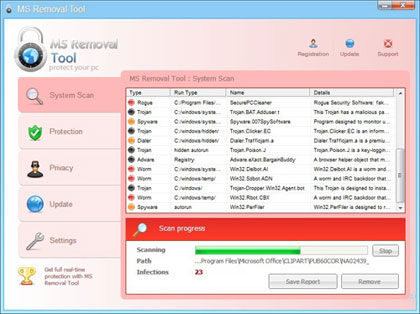 MS Removal Tool 2.20 is a newly released FAKE ANTIVIRUS tool which has been designed by hackers to get you to purchase the rogue upgrade to the program. Despite looking like a legitimate tool, it's a complete scam and should not be trusted at all on your PC. Fortunately, removing the infection is actually very simple if you're able to use the steps outlined on this web page.
What Is MS Removal Tool 2.20?
This is a complete scam, which is also known as a "malware" (malicious software) infection. The way this virus works is to install itself onto your PC from the likes of a fake email, malicious website or some other form of Internet-based virus; and then will try and trick you into buying the rogue upgrade to the program. If you have this infection, you have to be able to get rid of it in the most effective & reliable way possible – which is actually a little bit more difficult than what it is to remove most infections from your PC.
The bad part about MS Removal Tool 2.20 is that it will block the likes of Task Manager, and a number of the programs that you will need to get rid of it. This is deliberate, and can only be resolved by using a reliable application to stop the infection from running & operating. This tutorial is going to show you how to stop the virus for good: