XP Defender Pro Removal Tutorial – How to Get Rid Of XP Defender Pro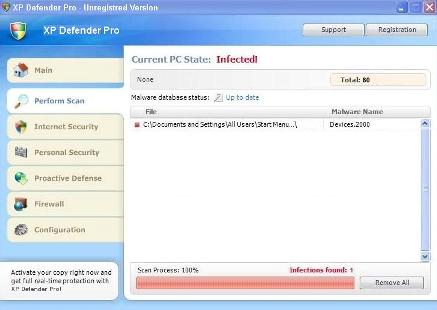 XP Defender Pro is a quite an old infection, that's been installing itself onto 100's of computers each day for about 1 year now. This virus has been created by hackers to resemble an actual antivirus application, and as a result it's continually trying to get you to buy the fake upgrade to the program by showing you a series of false antivirus scanning results. If you have this virus, it's vital that you're able to get rid of the infection in the most effective way possible – which can be done by using the steps outlined on this page.
What Is XP Defender Pro, Exactly?
This virus is a newly released scam which is also called a "malware" (malicious software) infection. It works by installing itself onto your computer and then getting you to purchase the rogue upgrade to the infection through showing you a large number of fake antivirus scanning results. The primary role of this infection is to act as a "Front", to encourage you that the hidden threats which reside under the surface are not there.
Removing XP Defender PRO is actually very easy to do, but takes a little bit more effort than a typical virus. The problem is that unlike most viruses, this infection will disable a lot of the programs on your PC, including the likes of Task Manager, your Internet and other important options. If you want to remove it, you have to stop it from running before deleting all the parts of the program in the most effective way from your computer, as demonstrated below: